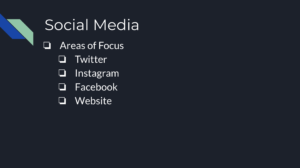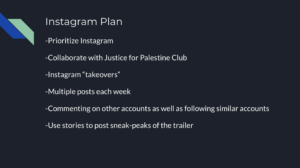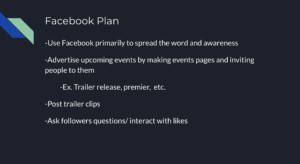 As I am on the pitch deck group, my main job for the presentation tomorrow was creating the powerpoint for the social media team and helping them come up with goals they are hoping to achieve. I have attached the slides that I made for them to prepare for tomorrow.
Some questions I have for our client tomorrow:
In an ideal world, how many followers would you like to gain?
How many likes would you like to be getting?
Which social media platform would you like to prioritize?
Which social media platform are you the most skilled in (in order to continue running it)?
How do you want to use social media platforms differently?
What do you want social media to be adding to your brand?
What is your experience with social media like?
How can we help you better understand social media and branding?
Do any of the members have social media, and how can we connect to them?
Would you like us to change anything about the current social media plan?